Dream With Me: Shalita Hale's First Step to Securing an SBA Loan

As a single mom with two toddlers, Shalita Hale had reached a crossroads. She was making just enough money to stay afloat but wanted a better life for herself and her children. With a financial background, she started looking for a job as a loan officer.
"I must have applied for 30 or 40 jobs," Shalita recalls. "I remember going to Kinko's to have my resume printed on nice paper and hand delivering them to places with openings."
Shalita eventually accepted a job that paid an hourly minimum wage plus commission. She was the only woman and minority in the office. The odds seemed to be stacked against her, but it was an opportunity. She decided to bet on herself – and it paid off.
In her first year, Shalita earned 40 percent more than she was making previously. She quickly tripled her income the following year. Now, after more than a decade in lending, including working for the U.S. Small Business Administration (SBA), Shalita joined Immito, one of 14 non-bank, SBA delegated lenders in the country, as Vice President of Business Development.
Shalita helps clients in diverse industries but specializes in small businesses in beauty, health, and wellness, including franchises. For business owners, being a part of a proven franchise helps to strengthen the experience portion of their SBA loan applications. Example deals include $1.5 million for a medical spa with leasehold improvements, an $800,000 salon including inventory, equipment, and commercial real estate purchase, a $500,000 franchise dental practice including state of the art equipment and real estate, and a $1,300,000 partner buyout for a tourism business without real estate.
Shalita's personal journey continues to motivate her to help and inspire small business owners.
"I'm drawn to people who aspire for more." Shalita said. "I admire those who overcome fear to take that leap. If you're willing to show up, come prepared, and bet on yourself; I'm willing to bet on you."
Shalita enjoys having what she calls "dream with me" conversations with people seeking small business loans. She discusses each individual's dreams and goals and their plans to achieve them. The best way to overcome fear and uncertainty is to develop a solid plan backed up by grit, determination, and persistence.
As a non-bank SBA lender, Shalita can help businesses access loan terms that are more favorable than a traditional bank loan. Shalita's company also services their loans, which means they'll always be there to support you on your journey.
Most importantly, you'll have a partner who believes in you.
"I was turned down quite a bit early in my career," Shalita said. "I've found that the most successful business owners don't just have adequate funding. They have the determination to never give up. There's nothing more rewarding than helping these individuals realize their dreams."
Sign up for Shalita's "Dream With Me" Virtual Workshop Series!
* Part 1: The Power of Partnerships, with breakouts for high-value networking.
* Part 2: Resources for Minority Owned Business, with underutilized grant resources provided.
* Part 3: Insider's Guide to Business Funding, with tips from credit underwriters and bank executives.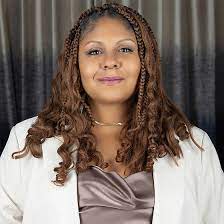 Additional Info
Related Links : https://www.franchisejournal.com/dream-with-me-shalita-hales-first-step-to-securing-an-sba-loan
Source : Franchise Journal