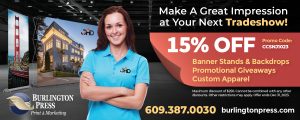 15% OFF Banner Stands & Backdrops, Promotional Giveaways, Custom Apparel!
Promo Code: CCSNJ1023
Are you interested in being the next Featured Member-to-Member Discount?
CCSNJ Members will Receive 10% OFF a Professional Headshot Photography Session!
Update your business profile photo for future speaking engagements, LinkedIn, or "meet the team" website pages. Contact April or James Ward at 856-889-6451 or info@weareccod.com to BOOK your PROFESSIONAL HEADSHOT session with us TODAY!