Atlantic City Casinos Facing More COVID Restrictions Starting Thursday Night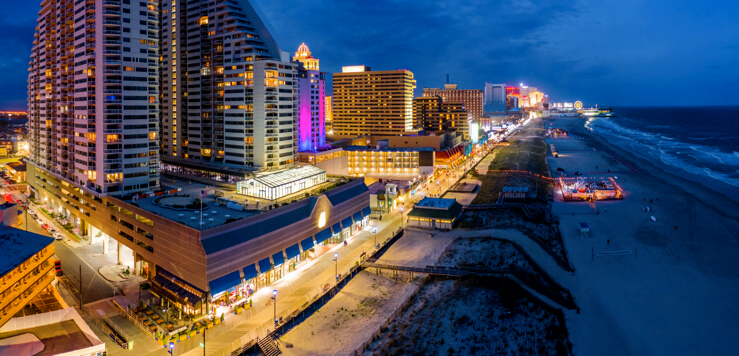 The good news for Atlantic City casino gamblers is that Gov. Phil Murphy's new pandemic-related restrictions do not prevent them from gambling all night.
But effective Thursday night, a big hit at the craps table, roulette wheel, or any other table games or slot machines cannot be washed down in the casino after 10 p.m by a glass of champagne, a shrimp cocktail, or any other alcohol or fine dining item.
That limitation will take effect each night for a seven-hour period ending at 5 a.m.
In the latest of dozens of executive orders issued this year related to the COVID-19 outbreak, Murphy on Monday cited the increasing number of cases in recent weeks as a reason for the cutback in serving hours.
One 'Whereas' after another
There also will be no more of what had been limited seating at bars in New Jersey restaurants and taverns:
"WHEREAS, the institution of mitigation protocols limiting certain high-risk activities is necessary to combat the spread of the virus and lessen the need for more comprehensive restrictions; and
"WHEREAS, the progress we made earlier this year demonstrates the effectiveness of such protocols, particularly those that prevented individuals from congregating indoors and encouraged avoidance of close contact in indoor settings, where the virus is more readily transmitted; and
"WHEREAS, restricting the operating hours of the indoor portions of dining and drinking establishments, where consumers are authorized to remove their masks to eat and drink in an indoor setting, will limit congregation inside establishments that are frequently more crowded at late hours, particularly where drinking is taking place; and
"WHEREAS, we are aware of at least one outbreak at a restaurant in New Jersey involving nine bartenders at a single location; and
"WHEREAS, indoor bar service commonly results in individuals, including patrons, bartenders, and servers, remaining in close contact for extended periods of time; and
"WHEREAS, bar service can be suspended to lessen the risk of spread between patrons and bartenders at restaurants and bars while still permitting seated table service that does not involve the same potential for sustained contact between customers and employees when businesses and customers follow health and safety protocols; and must close their indoor operations to the public from 10:00 p.m. until 5:00 a.m. each day … "
Murphy, at a press briefing in Trenton on Monday, said, "To be clear, the last thing I want to do or any of us want to do is to shut our economy back down, and thankfully, we are not at that point.
"No one up here wants to take the type of broad and all-encompassing actions like those we had to take in March. We are acting with more precision-based actions on what we are seeing on the ground."
South Jersey officials strike back at the new limitations
Still, South Jersey lawmakers continued to bristle at the fact that statewide mandates continue to be made even though the degree of outbreaks is not even across the Garden State.
Assemblyman Vince Mazzeo (D-Atlantic) posted on his Facebook page on Monday: "Businesses in South Jersey are hurting. New blanket restrictions are not what we wanted to hear today. These new restrictions were put in place due to [soaring] North Jersey COVID cases."
Michael Testa, a South Jersey state senator, called Murphy's decision "a destructive overreaction."
"Murphy should be targeting areas of high virus spread, and taking the time to evaluate the data and facts," Testa said in a statement on Tuesday. "There is no reason to lock things down gratuitously in South Jersey."
Another state senator in the region, Kristin Corrado, echoed the criticism: "For the governor to place another arbitrary restriction on indoor dining at restaurants and bars, when they are already limited to a mere 25% capacity, is a slap in the face to small businesses struggling to survive — particularly right before the holidays. This irrational decision by Gov. Murphy will impact our restaurant industry in the worst possible way."
The Chamber of Commerce of Southern New Jersey joined the chorus, questioning what it called a "statewide, one-size-fits-all approach" that ignored that area's far lower case counts compared to the rest of the state.
Taking a more neutral stance
The trade association for the casino industry, however, took a more diplomatic approach.
"The Casino Association of New Jersey understands the administration's concerns, and that is why the industry has taken extraordinary measures to safely welcome back thousands of hardworking employees and valued guests, while also helping to minimize the exposure of Atlantic City casino property guests, our employees, and our local community to the COVID-19 virus.
"We will continue to work to give our guests the exciting experience they have come to expect from our first-class properties."
A rise in online casino gaming and mobile sports betting were a partial salve for the brick-and-mortar facilities this summer and early fall — a luxury not afforded many casino operators in other states such as New York.
But the limitations on the nine Boardwalk and Marina District facilities has cost thousands of jobs, leading to a ripple effect downward for the regional economy.
Additional Info
Media Contact : JOHN BRENNAN | https://www.njonlinegambling.com/author/johnbrennan/
Source : https://www.njonlinegambling.com/atlantic-city-casinos-new-covid-restrictions/