Chamber to Hold Seminar for Camden's Minority- and Woman-Owned Businesses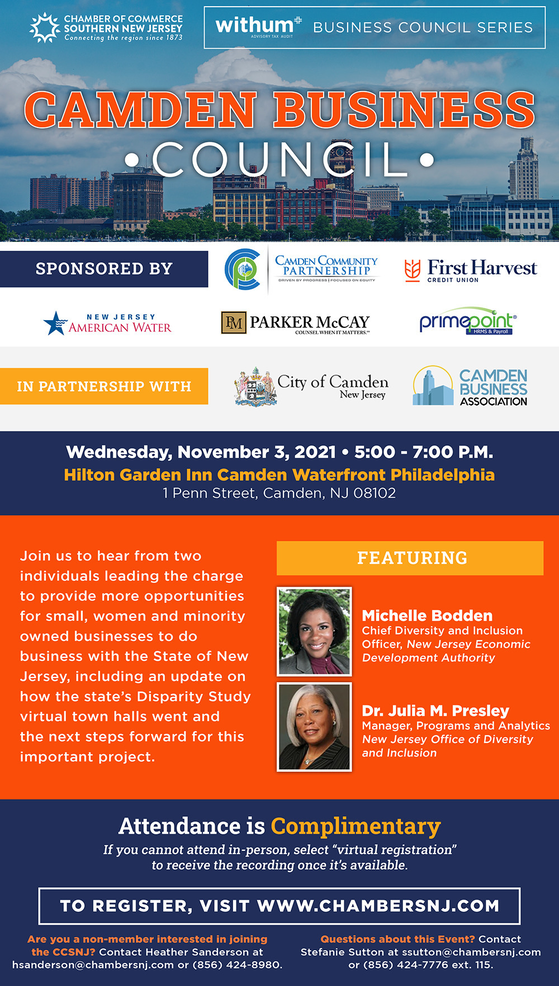 CAMDEN, NJ – The Camden Business Council, an initiative of the Chamber of Commerce of Southern New Jersey, is holding a seminar for the city's minority- and woman-owned small businesses and those interested in opening one.
The free event will happen on Wednesday, November 3 from 5 p.m. to 7 p.m. at the Hilton Garden Inn, but there will also be a virtual option available.
There will be two speakers at the event. Michelle Bodden, the New Jersey Economic Development Authority's diversity and inclusion officer will present alongside Julia Presley, the manager of programs and analytics for the New Jersey Office of Diversity and Inclusion.
In addition to general business tips, the two will discuss the progress of the state's Disparity Study, which is looking into how well New Jersey utilized woman- and minority-owned when procuring contracts between 2015 and 2020.
Those planning to attend either virtually or in person are asked to register at this link.
Additional Info
Source : https://www.tapinto.net/towns/camden/sections/business-and-finance/articles/chamber-to-hold-seminar-for-camden-s-minority-and-woman-owned-businesses