Kim, Richter spar over COVID, incumbent's moderate credentials in debate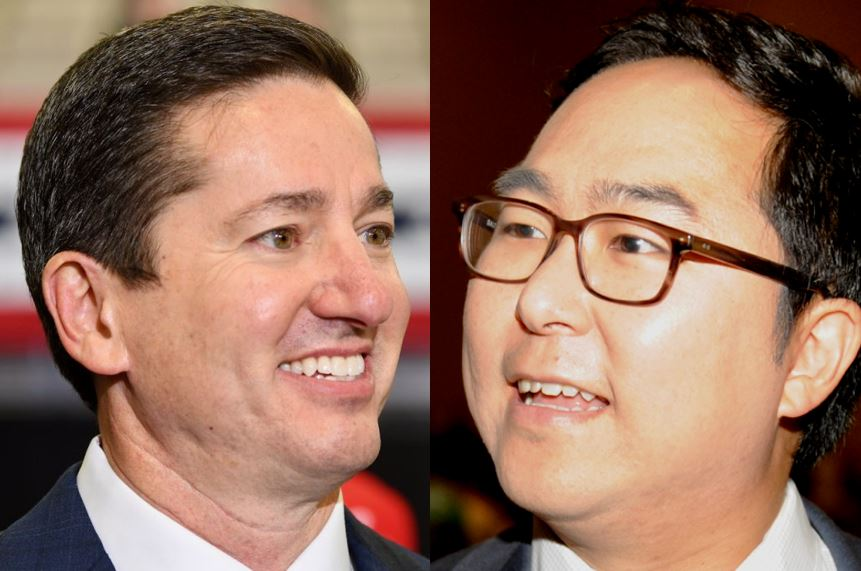 Rep. Andy Kim (D-Marlton) rebuked challenger David Richter over what he deemed a lax observation of COVID-19 precautions while the Republican impugned the incumbent's moderate credentials during a debate moderated by the New Jersey Globe Sunday night.
Kim, who is running his first re-election race, pressed Richter on previous calls to swiftly lift restrictions imposed to halt the virus and jabbed him over campaign photos that show the candidate maskless and not observing social distancing guidelines.
"I just still disagree with the example that Mr. Richter is setting. Taking these photos without wearing a mask, I really think it sends the wrong message at a time where I'm still concerned about what happens next," Kim said.
In a candidate forum moderated by the Chamber of Commerce of Southern New Jersey last month, the Republican said he believed the worst of the pandemic had passed.
On Sunday, he abandoned that notion, adding his push for a hasty reopening was made because New Jersey had seen a sustained drop in cases over preceding months, though he continued to push for looser restrictions.
"We cannot keep it under lockdown for six, nine, 12 months," Richter said of the economy. "Businesses won't survive that long. Families won't survive that long. But we need to bring the businesses back. We need to bring the jobs back, but we need to do it carefully and safely to make sure that the impact from COVID is as minimal as possible."
The Republican focused his own attacks at Kim's membership in the Congressional Progressive Caucus, charging it belied his campaigning as a moderate.
"Congressman Kim is very good at pretending he's a moderate Democrat when he's in New Jersey on the campaign trail, and when he's in Washington DC, he's a member of the progressive caucus, which is anything but a moderate group," Richter said. "It's where AOC and the Squad and Bernie Sanders hang out."
The Squad is a nickname for a group of four first-term progressive congresswomen, including Rep. Alexandria Ocasio-Cortez (D-N.Y.).
Kim said he joined the group because it was working on campaign finance reform, adding that he was part of 37 caucuses. (The congressman's House website lists only 26.)
Caucuses, the incumbent said, were about coalition building.
"It's about engaging with people across the political-ideological spectrum," Kim said. "Sometimes they're very liberal. Sometimes they're very conservative, but I still need to be able to work with them."
Richter said he was generally pro-abortion rights, though that support is limited to early-term abortions, and the candidate opposes public funding for such procedures. His position on the issue did little to shift his views on Trump's U.S. Supreme Court nominee, Amy Coney Barrett.
He did not believe she would vote to strike Roe v. Wade, the landmark U.S. Supreme Court decision that made legal pregnancy terminations the law of the land. And if it did, Richter said he'd back whatever action was needed to replace it.
"I would support anything that would continue giving women the right to control their own bodies and to have early-term abortions," he said.
Though Barrett has not been tested on the issue, Trump has repeatedly boasted that he would appoint judges to overturn Roe, a fact Kim was quick to point out.
"I think Mr. Richter is ignoring a huge part of this debate right now with understanding that this is exactly the intent of President Trump," the incumbent said. "And this is exactly the type of concern that women and all of us across this country have right now, because it is a very real and present danger."
The congressman faced some fire over broken promises. Kim promised he would not vote House Speaker Nancy Pelosi into a leadership role during his 2018 campaign. His first vote in the House was to reappoint the California Democrat, though he voted against her in a Democratic Caucus meeting shortly after the election.
Richter said that amounted to a betrayal of the voters who put the first-term congressman into office.
"In his very first vote in the House, he broke a promise that he made to voters of the third district," Richter said. "I can tell you, having been on the campaign trail this entire year, they remember that."
Kim said his vote was based on what was best for the district. He said he answered to the district's voters, not his party's leadership.
Still, the incumbent declined to rule out voting to give Pelosi the speaker's gavel once again.
"I make no promises to any leadership," he said. "My promise is to this district, and the promise that I made to this district is looking out for their healthcare. It's about lowering the prescription drug costs."
Richter's oft-changing residency also saw some play. The Republican lived in Princeton before launching his congressional bid in the third district.
After Rep. Jeff Van Drew (R-Dennis) defected from the Democratic party, Bill Stepien, who is now Trump's campaign manager, helped engineer a deal that would save both Republican candidates a costly primary.
Richter would instead run in the second district, where former Burlington County Freeholder Director Kate Gibbs then had the nomination all but cinched. The saga still has Richter facing questions over his residency.
On Sunday, the former Hill International CEO said he would live in the district if he scored a win in November.
"I couldn't have said it any better than Mr. Richter did when he literally just said he won't move into the district until after he sees whether or not he wins this election," Kim said.
The Republican, who was went to the same high school as the congressman, said he was "preparing to sell his home in Lawrenceville."
Both candidates sought to dispute their opponent's record. Richter backing allegations put on the air by a $500,000 ad buy from the Republican Jewish Coalition that claim Kim gave advice that helped fuel the rise of the Islamic State of Iraq and the Levant.
Kim, meanwhile, charged Richter was upselling his record as a businessman, citing millions of dollars in losses the company experienced during his last year as CEO there and a $500,000 fine the Securities and Exchange Commission leveled at the firm over accounting fraud allegedly committed by it's then-CFO and a senior accountant.
Additional Info
Media Contact : Nikita Biryukov | https://newjerseyglobe.com/author/nikita-biryukov/
Source : https://newjerseyglobe.com/congress/kim-richter-spar-over-covid-incumbents-moderate-credentials-in-debate/