ART MEANS BUSINESS: Design Workshop Series for Camden County Businesses
Monday, April 24, 2023 7:00 PM - Monday, June 26, 2023 9:00 PM (EDT)
Description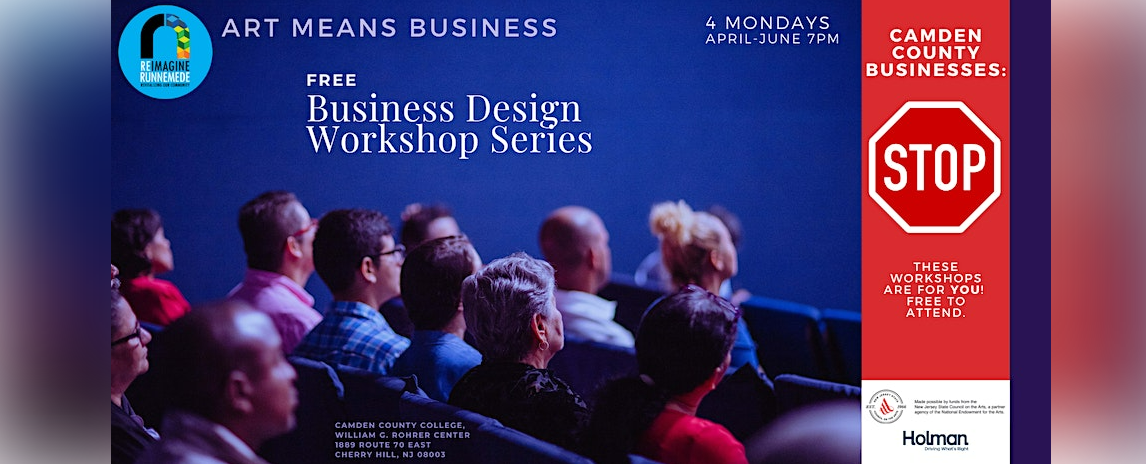 Join us on the 4th Monday of April May June as well as May 8th for this Design Workshop Series created for the Businesses of Camden County. Made possible by a generous grant from the New Jersey State Council on the arts administered by the Camden County Cultural and Heritage Commission, and a sponsorship by Holman, Reimagine Runnemede has been given this opportunity to provide these valuable workshops and has chosen to open it up to ALL businesses of Camden County, for all to benefit and learn. Each workshop is offering a different focus on how the arts can be used to elevate your business. Workshop topics include:
Monday April 24, 2023, 7pm Windows, Interiors, & Sidewalk Enhancements Are your shop windows working to promote your business? Current trends indicate that successful businesses also design the sidewalk experience in front of their shop for a big payback. Learn creative tips and tricks you can employ that cost almost nothing to implement.
Monday May 8, 2023, 7pm Building Facades Updating the façade of your business can feel daunting, but your tired storefront is not inspiring your customers. Learn from design professionals what changes you can invest in that will give you the most bang for your buck. And why sometimes clean windows and a fresh coat of paint are all you really need to do.
Monday May 22, 2023, 7pm Logos, Branding, & Creative Use of Signage Your brand is more than your typeface. Its time to get creative and learn why so many companies invest in their logo and signage to create brand recognition. Have you had that faded vinyl banner up there for years in place of an actual sign just to save money? It's time to ask yourself what "doing it on the cheap" really says to your customers.
Monday June 26, 2023, 7pm Restaurant Impossible, Farm to Table, & BYOB We can't promise Robert Irvine and his sledge hammer but these restaurant owners will share their tips on how they use great design to offer up Instagram worthy experiences for their clients. Does your restaurant need a makeover? Come be inspired.
During each 2-hour session, a panel of design professionals will offer inspiring success stories high lighting what the arts can do to elevate local businesses. Participants will learn how to find, budget for, and work with design professionals.
The arts are a key element that can be used to transform small business across South Jersey. We believe that the businesses that could benefit the most are probably unaware of how to find and work with design professionals.
Workshop Speakers will feature design professionals paired to the session theme: Architects, Builders, Contractors, Interior, Landscape, Graphic, & Lighting designers, Sign Makers, Restauranteurs, Chefs. You will also here inspiring stories and gain insights from fellow shop owners who are already experts at applying good design. All programs are on Mondays and start at @ 7 PM Sharp!
Sign up for 1 or all of the free workshops at the ticket button. Invite other entrepreneurs that you know may benefit.
REGISTER HERE
NOTE: So that individuals that want to be at multiple free workshops do not have to go through the hassle of registering up to 4 times, we have created this as ONE event and you can register just once for all you plan to attend; however you will only receive 1 confirmation email. We will personally send you as reminder of each workshop in the series that you sign up for, on the Friday before the event. Thank you!
Click HERE for the video of the "Dot Exercise" Reimagine Runnemede did with the community for feedback on facades and general projects for our grant. More will be shared at the workshops.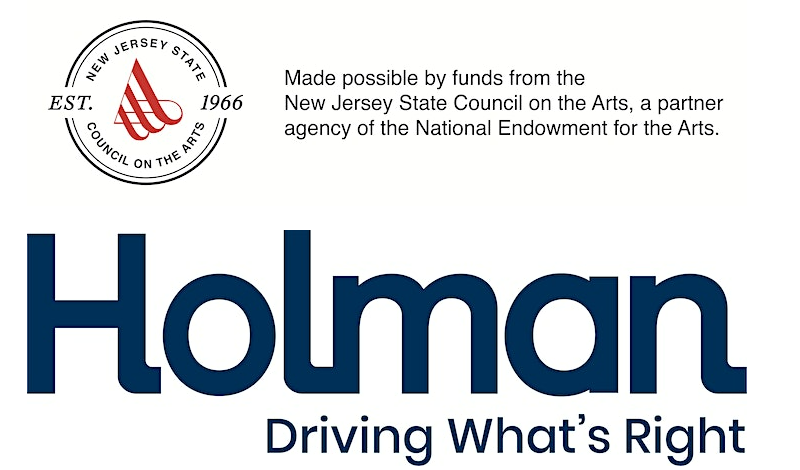 Camden County College
1889 Marlton Pike



East Cherry Hill

,

NJ

08003

United States



Monday, April 24, 2023 7:00 PM - Monday, June 26, 2023 9:00 PM (EDT)