Governor Murphy Announces Stages of Reopening the Economy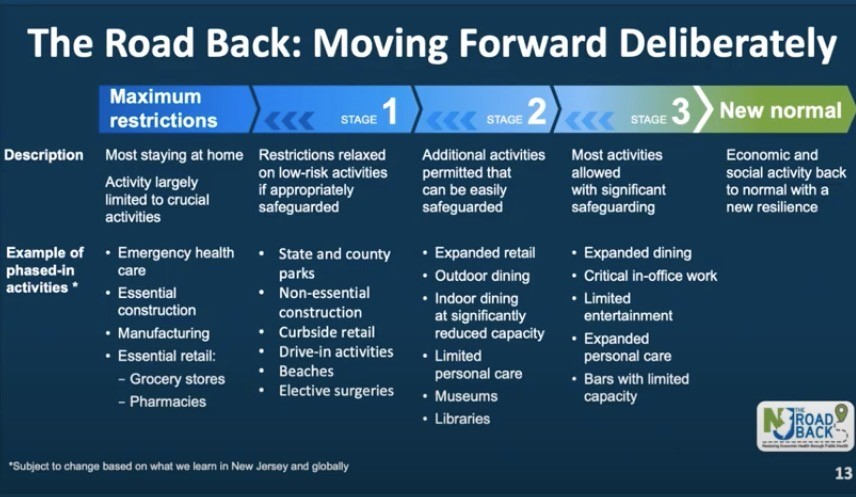 On May 18, Governor Murphy announced the three stage approach the Administration will take to allow businesses and activities to reopen. The stages were determined according to their risk level and the challenges they will face to safeguard public health. The Governor noted we are currently in Stage One.
Stage One will relax low risk activities, including:
State and County Parks
Non-essential construction
Curbside Retail
Drive-in Activities
Beaches
Elective Surgeries
Stage Two will reopen additional activities, including:
Expanded retail
Outdoor Dining
Indoor Dining at reduced capacity
Limited personal care
Museums
Libraries
Stage Three will permit most activities with social distancing, including:
Expanded dining
Critical in-office work
Limited entertainment
Expanded personal care
Bars with Limited capacity
Among the guidelines of the Reopening framework were the following suggestions from the CCSNJ's Economic Reopening and Recovery Plan for South Jersey:
Prioritizing primarily open-air businesses
Capacity limitations
Sanitization requirements
The Restart and Recovery Council will be tasked with informing the granular details of reopening the economy. The CCSNJ was honored to be included on the "Main Street" subgroup and will continue to work with the Administration on a staggered, regional reopening approach that prioritizes certain areas in South Jersey and low-risk industries for reopening as quickly and safely as possible.
For a one-page summary of Governor Murphy's multi-stage approach to restart New Jersey's economy
, click here.