2021 Nuestro Pueblo Award - David Vinokurov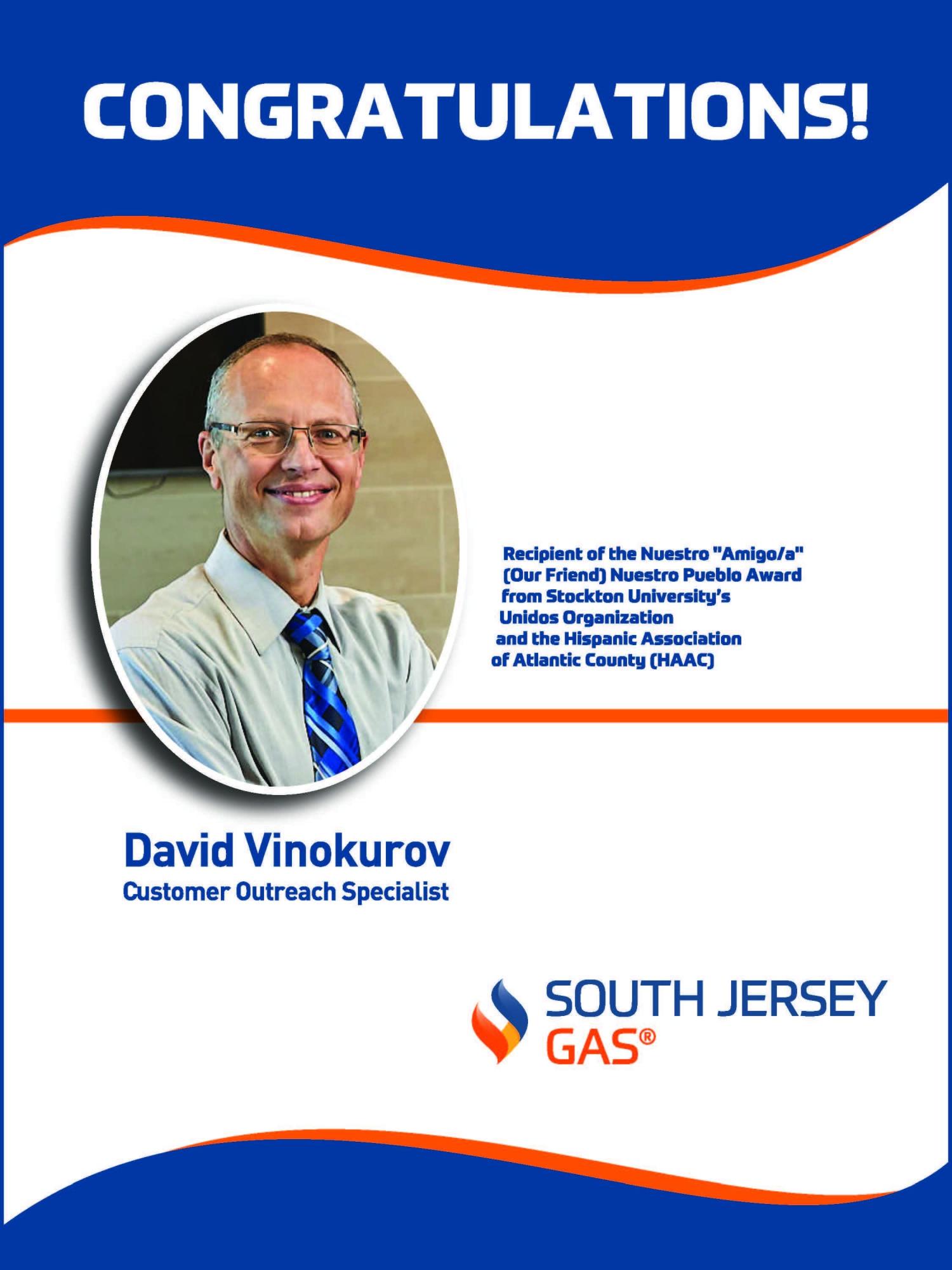 On Saturday, David Vinokurov accepted the Nuestro Organizational Amigo/a Award at the 2021 Nuestro Pueblo Award presented by Stockton University Unidos & The Hispanic Association of Atlantic County. This distinguished award is given to a non-Hispanic/Latinx individual that has demonstrated devotion to the betterment of the Latino community through their work, special achievement(s) or service to the community.
On behalf of South Jersey Gas, David Vinokurov is proud to receive this award, and is proud to work for such an outstanding company that values CSR – Corporate Social Responsibility and demonstrates that responsibility in deeds and actions. In these unprecedented times, South Jersey gas has proven its commitment to humanity and resilience. South Jersey Gas will continue to support the Latino community and all the communities that we serve.
David Vinokurov would like to thank Stockton University's Unidos & The Hispanic Association of Atlantic County (HAAC), and more specifically:
Jessica Grullon

Nuestro Pueblo Committee, Chair

Bert Lopez,

HAAC, President

Ivenny Lopez

Nuestro Pueblo Committee, Co-Chair

Dr. Arnaldo Cordero-Roman

UNIDOS, President
He would also like to thank all the wonderful companies and organizations that sponsored, donated, and purchased book advertisements to support this celebration.
Congratulations to his fellow recipients.
2021 Nuestro Pueblo Awards Honorees:
Arts and Entertainment – Mr. Mike Lopez, AC Mike Show
Community Service – Mr. Luis Rodriguez, La Casa Dominicana
Education – Mrs. Yasnaya Lorick, Sovereign Ave School
Entrepreneurship – Mr. Elvis Cadavid, Vagabond Kitchen & Tap House
Future Leader – Ms. Jetzaly Medina, Stockton University Engelberg Scholar
Healthcare – Ms. Jenny Hernandez- ALMA Atlanticare
Nuestro "Amigo/a" – Mr. David Vinokurov, South Jersey Gas
Organizational "Amigo/a" - Atlantic Cape Community College
Public Service – Lieutenant Wilber Santiago, ACPD
STEM – Mr. Kirby Ortiz, Stockton University Information Technology Services