Battleship New Jersey Offering New Tours and Experiences Through Summer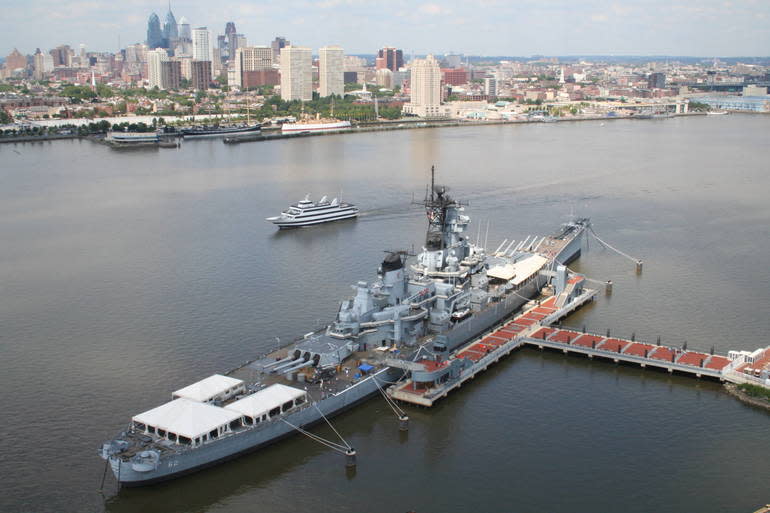 CAMDEN, NJ – From April 1 to Sept. 5, the Battleship New Jersey Museum and Memorial will be open seven days a week for various tours and immersive experiences.
Since she was restored and established as an educational museum in 2001, Battleship New Jersey has become a must-see attraction on the Camden Waterfront for families, school groups, and military history enthusiasts interested in touring the U.S. Navy's most decorated battleship.
USS New Jersey (BB-62) is the most decorated battleship in the history of the U.S. Navy, earning distinctions in World War II, the Korean War, the Vietnam War, the Cold War, and conflicts in the Middle East. USS New Jersey's service history spanned over half of the 20th century, from her design in 1938 until her final decommissioning in 1991. During her service, she earned a total of 19 Battle and Campaign Stars, the most of any battleship.
USS New Jersey is an Iowa-class battleship, the largest, longest, and fastest battleship ever constructed. These battleships' design and utility allowed them to serve over a longer period of time than any of their predecessors. Construction began in the Philadelphia Navy Yard on Sept. 16, 1940, and the ship was launched on Dec. 7, 1942. For more on USS New Jersey's history, visit www.battleshipnewjersey.org/the-ship/full-history/.
On November 11, 1999, Battleship New Jersey returned to the Philadelphia Navy Yard to be restored as a museum and arrived at her final destination on the Camden Waterfront on Oct. 15, 2001. The restoration and management is overseen by the Home Port Alliance for the USS New Jersey.
Year-round programming at Battleship New Jersey Museum and Memorial
The mission of the Battleship New Jersey Museum and Memorial is to restore, preserve, and exhibit the continuing history of the Battleship New Jersey and those who worked and served aboard her, so their service continues to educate and inspire future generations.
To fulfill its mission, the staff has collected numerous unique memorabilia and artifacts related to her history for inclusion in exhibitions, research, and hands-on education. Visitors can purchase memberships or tickets for tours that include interactive experiences and special exhibits.
For an overall view of Battleship New Jersey, guests can purchase tickets for self-guided or guided tours, which takes guests five levels up and two decks below. Guides are stationed along the tour paths to answer questions. Visitors can spend anywhere between 30 to 90 minutes on the self-guided tour also includes two unique experiences found along the route. First, the Engineering "Steam to Speed" experience leads guests through a portion of the Battleship's engineering spaces. The second, Turret II, is an interactive experience that tasks guests with loading power bags, hoisting a projectile, and pulling the trigger on a simulated 16-inch gun. Tickets for self-guided tours are $25, with discounts available to retirees, veterans, and children.
On the guided tour, guests' journey through American history on a 90-minute tour with a knowledgeable guide who takes them throughout the ship, including her 16-inch gun turrets, the Admiral's and Captain's Cabins, Navigational Bridge, Wardroom, Berthing Area, and more. Tickets for the guided tour are $30 to $35.
Individuals and groups looking for an immersive experience can participate in the award-winning Overnight Program that allows Scout troops, school groups, youth organizations, and families to spend an evening aboard the USS New Jersey. Participants experience life as a crew member, enjoying dinner and breakfast served at the Chow Line, going on guided tours of the ship, and sleeping in the crew's bunk beds. Guests are entered in a raffle for a chance to fire the saluting gun at the end of their stay. Overnights are available weekends through fall 2022. Booking information is available here.
Check out the museum's popular, award-winning YouTube channel. There are currently over 750 videos on various topics related to Battleship New Jersey, including military history, science, technology, and engineering. Groups interested in STEM education can schedule a class in addition to their tour where a museum educator leads the group in hands-on activities. To learn more about Battleship New Jersey Museum and Memorial or follow updates regarding their operating hours and programming, visit www.battleshipnewjersey.org.