"Camden-based energy companies host Camden youth for summer career exploration and internship program."
CAMDEN, New Jersey – Equals Energy, a Camden-based solar development company, along with its affiliate, Community Solar Circle, is hosting two Camden youth for a summer career exploration program in partnership with Exelon Corporation through the Spark Internship Program.
Stephen Renz, Director of Operations at Equals Energy met Rachele Dorsey, Workforce Development Manager for Pepco Holdings (parent company of Atlantic City Electric) at a Southern New Jersey Development Council seminar called, "Building South Jersey's Workforce," where she gave a presentation about Atlantic City Electric's Infrastructure Program and the associated Spark Internship Program.
The Atlantic City Infrastructure Program provides utility training and work readiness skills to underserved community members in the Atlantic City area while the Spark Internship Program provides paid work experience and work-readiness education to South Jersey high school students and young professionals.
Inspired by Dorsey's presentation, Renz approached her to see if Equals Energy could help with the program in any way. Dorsey informed Renz that she needed a host organization for two students in the Spark Internship Program who were interested in the solar industry and Renz committed to hosting two students.
Shortly before the internship was set to begin, one of the students dropped out of the program so Equals Energy collaborated with their Market Street neighbor, Hopeworks, to offer the position to one of their alumni. Hopeworks, a local nonprofit, focuses on "skill development, real-world job experience, and trauma-informed care to propel young adults into long-term living wage careers that put them on the path for healing and financial stability."
Renz commented, "It is wonderful working with Hopeworks. An alumnus built the website for Equals Energy, and we have had several discussions with them about hiring Hopeworks alumni when we are ready to take on additional employees. We want to support their mission in any way possible and hope to create a future pipeline to offer professional, sustainable, green energy jobs to the young professionals of Camden."
"Pepco has been great to work with as well. They have displayed exemplary commitment to local young professionals and continue to support students throughout the Spark Internship Program."
When asked about what the interns are working on, Renz replied, "Everything! We want this to be a meaningful experience for the interns that exposes them to the many different career options within the renewable energy industry, so we are showing them all aspects of our business. They attend our project management meetings, come to meetings with our nonprofit partners, attend Mayor Carstarphen's Camden Strong Cleanups, visit landfill sites in various stages of solar development, and visit the offices of our engineering partners. We have also had some classroom time to introduce the interns to energy, power, electricity, and the electrical grid. They will be attending an upcoming clean energy conference in Philadelphia with our team, and we will also teach them about our affiliated businesses in electric vehicle charging and battery storage. In between all of this, the interns are working on their own rooftop solar project."
Renz went on to comment on building relationships in the community.
"We are really excited to provide this educational opportunity for young professionals in Camden. This collaborative relationship among multiple organizations demonstrates the importance of attending local business association events, engaging with your neighbors, and learning about how we can work together to contribute to the health of our community."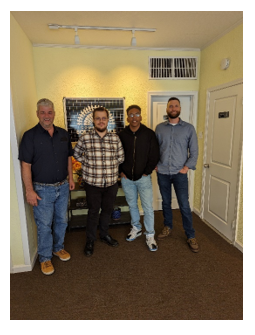 Additional Info
Media Contact : Stephen Renz, Director of Operations