Comcast Surpasses 100 Lift Zones Across New Jersey, Greater Philadelphia, and Northern Delaware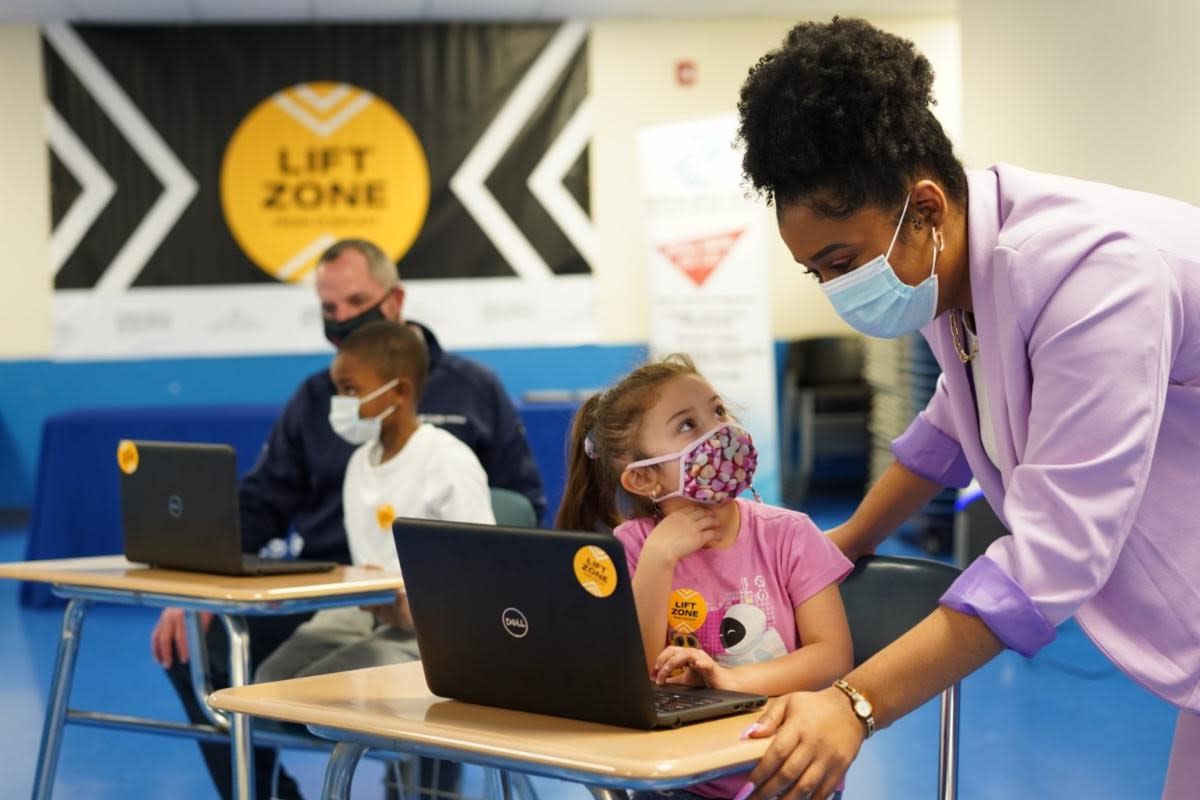 Across Greater Philadelphia, New Jersey and northern Delaware, Comcast has been working with community partners to launch more than 100 WiFi-connected Lift Zones with more being added over the coming weeks and months.
What are Lift Zones?
Lift Zones establish WiFi-connected safe spaces in community centers that serve everyone from students and adults to veterans and seniors – and many others. Nationwide, Comcast has set a goal to launch 1,000+ Lift Zones by the end of 2021. Comcast recently announced a $1 billion investment over the next 10 years to help further close the digital divide as part of the 10th anniversary of its Internet Essentials program, which includes investing in Lift Zones. This effort is part of our ongoing commitment to help connect low-income families to the Internet and provide resources to help them fully participate in educational opportunities and the digital economy.
Lift Zones complement Comcast's Internet Essentials program, which has helped connect millions of low-income people to the Internet at home since 2011. Working with its network of nonprofit partners, Comcast is providing free WiFi hotspot connectivity in community centers with access to hundreds of hours of digital skills content to help families and site coordinators navigate online learning, training and programming offered at these centers.
"The pandemic has put many low-income families at risk of being left behind, and we're proud to work with community partners to support them with Internet adoption and digital equity programs like this one," said Jim Samaha, Senior Vice President of Comcast's Freedom Region. "We hope these Lift Zones help families across our region stay connected to vital resources."
To see the full list of Lift Zone locations across the county, click here. Below is a list of Lift Zones located in Greater Philadelphia, New Jersey and Delaware:
Delaware
Bellevue Community Center
Clarence Fraim Boys & Girls Club
Greater Newark Boys & Girls Club
Kingswood Community Center
Latin American Community Center
Police Athletic League of Wilmington
Walnut Street YMCA
West End Neighborhood House
New Jersey
Atlantic City Rescue Mission
Boys & Girls Club of Camden County
Boys & Girls Club of Vineland – Carl Arthur Recreation Center
Boys & Girls Club of Vineland – Youth For Change Center
Boys & Girls Clubs of Gloucester County – Glassboro Center
Boys & Girls Clubs of Gloucester County – Paulsboro Center
Boys & Girls Clubs of Mercer County – Lawrenceville Clubhouse
Boys & Girls Clubs of Mercer County – Trenton Clubhouse
Boys & Girls Clubs of Union County – Plainfield Clubhouse
Boys & Girls Clubs of Union County – Union Clubhouse
Boys and Girls Club of Atlantic City – Chelsea Club
Boys and Girls Club of Atlantic City – Drexel Club
Capital Area YMCA
Cumberland Cape Atlantic YMCA
CYO of Mercer County (Catholic Youth Organization)
CYO of Mercer County (East Street Center) Classroom
Egg Harbor Township Police Athletic League Buddy's Adventure Zone
Egg Harbor Township Police Athletic League Main Office
Gateway Community Action Partnership – Everett Marino Hall
Gateway Community Action Partnership – Family Success Center
Jersey City Housing Authority – Curries Woods
Jersey City Housing Authority – Marion Gardens
Monarch Family Success Center
Second Street Youth Center
Vineland Police Athletic League
Wally Choice Community Center
Greater Philadelphia
24th Police Athletic League Center
26th Police Athletic League Center
Beckett Life Center
Boyle Memorial Recreation Center
Boys and Girls Club of Chester
Bridesburg Boys & Girls Club
Bucks County Emergency Shelter
Charles A. Melton Arts & Education Center
Cherashore Recreation Center
Cobbs Creek Recreation Center
Concilio
Disston Recreation Center
East Passyunk Community Recreation Center
Fairhill Police Athletic League Center
Fox Chase Recreation Center
Francis J. Myers Recreation Center
Gambrel Playground
Garage Youth Community Center – Rosehill
Garage Youth Community Center – Union
Harrowgate Police Athletic League Center
Hawthorne Cultural Center
Holmesburg Recreation Center
Hunting Park Recreation Center
Francis Finnegan Playground
James Lee Wright Recreation Center
Jardel Recreation Center
Kingsessing Recreation Center
Lackman Memorial Playground
Lansdowne YMCA
Lawncrest Recreation Center
Lawrence E. Murphy Recreation Center
Lower Mayfair Playground
Lutheran Settlement House – Jane Addams Place
Marian Anderson Recreation Center
Martin Luther King Recreation Center
Mayfair Recreation Center
McKaig Nature Education Center
Montgomery County Opportunities Industrialization Center
North Hills Community Center
North Penn Police Athletic League Center
Northeast Frankford Boys & Girls Club
Olney Recreation Center
Oxford Circle Police Athletic League Center
Palm Center for Positive Aging, Lower Merion – Senior Center
Parkside-Evans Recreation Center
Pelbano Playground
Penrose Playground
Philadelphia Chinatown Development Corp. – Crane Community Center
Police Officer Lauretha Vaird Boys & Girls Club
Samuel D. Cozen Police Athletic League Center
Samuel Recreation Center
Sergeant John J. McVeigh Recreation Center
Shane Victorino Nicetown Boys & Girls Club
Simons Youth Center & Teen Center
Simpson Recreation Center
Southwest Police Athletic League Center
Tacony Police Athletic League Center
The Parksburg Point
Tustin Playground
Variety Children's Charity
Vogt Recreation Center
Wayne Ave. Boys & Girls Club
Wissahickon Boys & Girls Club
Wynnfield Police Athletic League Center
YMCA of Greater Brandywine-Oscar Lasko Branch
Youth Service Inc.
YWCA Creekside Community Center
YWCA Tri-County Area
Additional Info
Source : https://philadelphia.comcast.com/2021/04/21/comcast-surpasses-100-lift-zones-in-greater-philadelphia-new-jersey-and-northern-delaware/#:~:text=and%20n