Cooper University hospital workers get 'Hero Pay' for COVID-19 efforts
Employees at Cooper University Health Care in Camden received "Hero Pay" bonuses of up to $1,500 on Sept. 28 in recognition of their work during the COVID-19 pandemic, according to an email message obtained by NJBIZ.
The email, signed by Cooper Chairman George Norcross and co-Chief Executive Officers Anthony Mazzarelli and Kevin O'Dowd, was sent to the system's 8,000 workers on Sept. 24. In it, the three executives note that Cooper treated and discharged more than 1,000 COVID-19 patients from the hospital and another 5,000 in outpatient settings.
Full-time employees received $1,500; part-time and per-diem workers who put in more than 1,000 hours between Jan. 1 and June 30 were paid $1,0oo; other part-time employees and per-diem employees who worked 750 to 999 hours over the same period got $500, and other per-diem workers received $250.
"Unquestionably, the entire Cooper team rose to meet this unprecedented challenge. In addition to treating thousands of COVID-19 patients, Cooper was recognized across the state for how well we provided PPE during the shortage, managed the crisis, and how we showed leadership as the regional coordinating health system for the state's COVID-19 response in South Jersey," the email reads. "Your incredible work this year has further enhanced Cooper's reputation in the community and in the health care circles throughout New Jersey and the United States."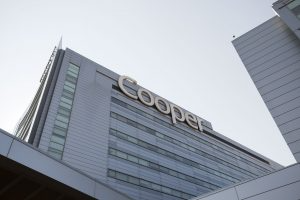 Cooper University Health Care, Roberts Pavilion – Camden Campus – COOPER UNIVERSITY HEALTH CARE
According to the email, the decision to make the payments was made given Cooper's "strong recovery efforts and our current financial position." A similar process led to the hospital administration's decision to raise workers' minimum wage to $15 an hour.
As of Sept. 30, Camden County had recorded 9,962 COVID-19 cases resulting in 559 confirmed fatalities, according to the state's COVID-19 data website.
Early in September, the Cooper Foundation and the Norcross Foundation announced that the organizations would distribute 16,000 face masks to Camden students from pre-K through high school. The move represented the third phase by the two foundations to make more than 275,000 masks available to the community.
A Cooper spokesperson did not respond to an inquiry about the email.