Faculty and Students Assist in Administering COVID-19 Vaccinations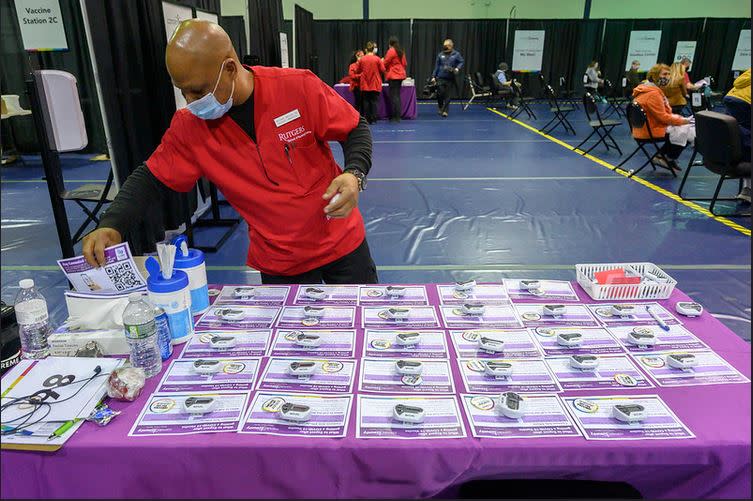 Thousands of South Jersey residents are receiving COVID-19 vaccinations thanks to the volunteer service of Rutgers University‒Camden nursing faculty and students who have been on the front line of this massive effort since New Jersey began receiving doses of the vaccine in January.
Nearly 400 Rutgers School of Nursing‒Camden students are assisting at the Camden County vaccination center in Blackwood, checking in community members, answering questions, and administering the Moderna vaccine.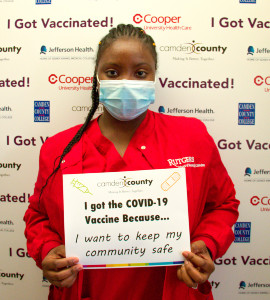 Johnnet Reeves hopes her decision to be inoculated will inspire other people to get vaccinated.
Most of the Rutgers–Camden nursing students had been taking virtual classes since the pandemic began, but now they have an opportunity to help contain the virus's spread, while getting hands-on experience and fulfilling clinical rotation and volunteer requirements.
"I was emotional after administering the vaccine for the first time because I have seen personally how sick the infected can get," says Anastasia Dudzinki, a senior nursing student from Franklin Park. "The vaccine feels like the first rays of sunshine after months of rain."
"It has brought me great joy to see how excited individuals are when they receive their vaccine," says Marisa Galella, an accelerated bachelor of science in nursing student from Mantua. "Their relief and gratitude remind me of why I want to work in health care and be a nurse."
"Some people have let out tears of relief after receiving the vaccine," says Leslie Demark, of Gibbsboro, an accelerated bachelor of science in nursing student in the Veterans Serving Veterans program at Rutgers–Camden. "It really makes me feel that what we are doing as a team truly is important and meaningful."
Chelsea Amoako-Duodu, a senior majoring in nursing, assesses people after they receive the vaccine and watches for any side effects. She is thrilled to be able to hone the skills she learned in class by working with patients. "As they talk, I am watching them, making sure their stories match what they say or how they look. If someone tells me that they are fine but their breathing is off and they are sweating, they will need to be checked," says the Williamstown resident, who graduates in May. Amoako-Duodu offers emotional support to people who share the hardships they have endured during this pandemic. "I just keep thinking about how grateful I am that all of my friends and family have been safe throughout this whole pandemic and it makes me empathize more with people who have lost loved ones."
The vaccination center is a coordinated effort, with the Rutgers School of Nursing–Camden joining forces with the Camden County Department of Health, Cooper University Hospital, the Cooper Medical School of Rowan University, and Camden County College, which houses the center in the gym on its Blackwood campus.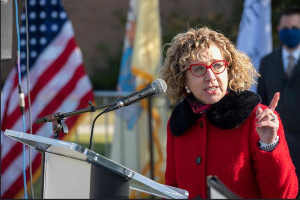 Donna Nickitas, Dean of Rutgers School of Nursing–Camden speaking at the opening of the vaccination center.
Nearly 15,000 people have received the vaccine at the center since it opened on Jan. 13.
Nursing student Johnnet Reeves says it is an honor to help in the vaccination effort to keep people safe. She hopes her decision to be inoculated will inspire people who are fearful of getting the vaccine to reconsider. "I want to serve as an example and prove that the vaccine is safe, protective, and definitely one of the few best practices to eliminate this virus," she says.
"Rutgers‒Camden nursing students are leveraging what they have learned about infectious diseases, epidemiology, and health equity to combat the effects of the coronavirus and address health disparities, racism, and social justice," says Donna Nickitas, dean of the Rutgers School of Nursing‒Camden.
Nursing student Leslie Demark
Since COVID-19 spread to New Jersey last March, Rutgers‒Camden nursing faculty and students have stepped up to provide care for South Jersey residents. Kevin Emmons, a clinical associate professor and associate dean for interprofessional practice, education, and innovation, led the state's Field Medical Site in Atlantic City in 2020. "Since that site has closed, this is a nice way to focus on the next steps of prevention," says Emmons.
Rutgers‒Camden is partnering with Cooper University Health Care to open an additional vaccination center at the Salvation Army Kroc Center in Camden. Throughout the pandemic, the Rutgers School of Nursing‒Camden has continued to deliver health care to Camden residents at the Branches at Centerville housing complex and other locations across the city.
Additional Info
Media Contact : jeanne.leong@camden.rutgers.edu
Source : https://news.camden.rutgers.edu/2021/02/faculty-and-students-assist-in-administering-covid-19-vaccinations/