LAN Expands Management Team With Two New Assistant Vice Presidents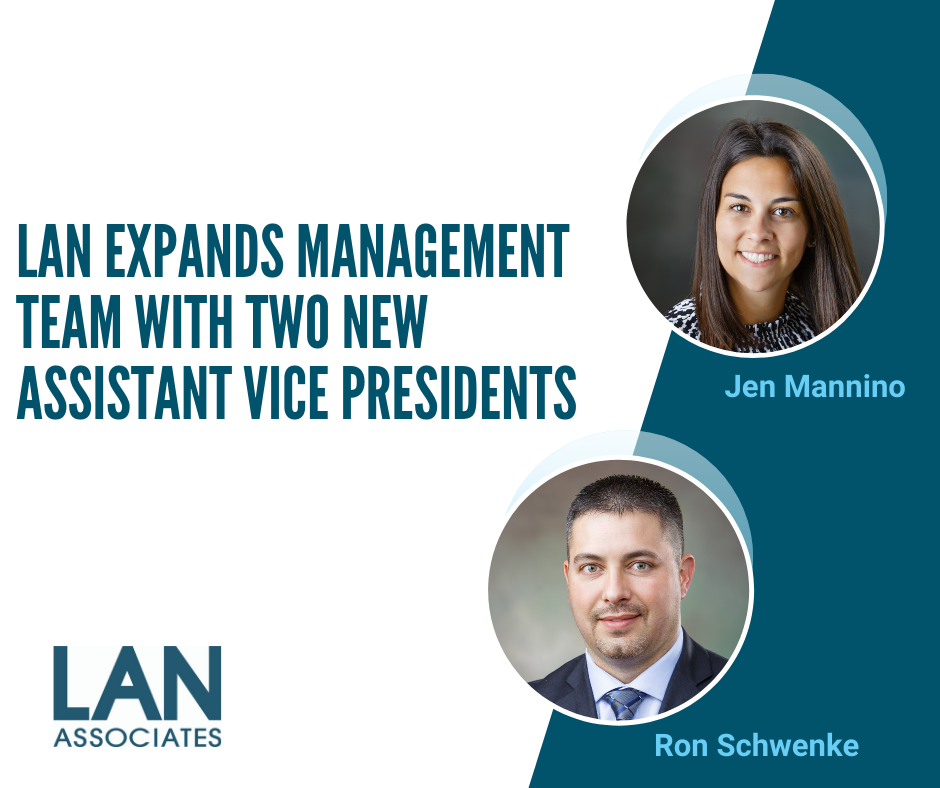 LAN Associates has announced a string of new promotions that include the addition of two new assistant vice presidents. LAN congratulates newly appointed Assistant Vice President Jen Mannino and Ron Schwenke who oversee the marketing and business development for the firm, and the southern New Jersey Voorhees operations respectively.
The advancements come as LAN adapts its operations to accommodate recent areas of growth and expansion into new industry market sectors and geographic locations. Both Jen and Ron have played a significant role in the architectural and engineering firm's businesses development initiatives and strategic operations. Their move into new roles as assistant vice presidents was a natural progression of their achievements, and a statement about LAN's future priorities.
In her role as an Assistant Vice President, Mannino will continue leading a team of multidisciplinary marketing professionals creatively working to increase LAN's visibility through digital marketing, public relations, and business development. Leading company efforts on strategic proposals, working with departments on strategic planning, and supporting business operations and growth will also fall under her purview. As the youngest person, and the first non-technical staff member, to reach the assistant vice president level, Jen brings a fresh perspective to the table.
"Our (marketing) efforts continue to make strides in supporting LAN's reputation as an exceptional full-service architecture and engineering firm," said Jen when asked about her promotion. "It's been really rewarding to be involved with LAN's growth over recent years, and I look forward to continuing to contribute to our advancements in my new role as assistant vice president."
Having recently relocated LAN's operations from downtown Philadelphia to Voorhees, New Jersey, Ron Schwenke has been instrumental to LAN's impressive growth and emerging opportunities within the region encompassing LAN's newest office location. Since joining the firm, Ron has undertaken multiple endeavors leading to substantial new projects and new relationships including expanding LAN's K-12 clientele, and developments in both retail and municipal markets.
"LAN has a well-established history and reputation in Northern New Jersey. By opening the South Jersey Office, we are expanding our brand while pursuing new opportunities," said Ron when asked about leading LAN's newest operation. "Joined by an experienced and impressive team, and my new role as assistant vice president, we envision further market expansion and implementing innovative design beyond the South Jersey region."
The addition of two new assistant vice presidents was part of a series of promotions at LAN. LAN also announced that architect Danielle Farrell, from LAN's Goshen office, has moved into a new role as a Senior Associate, and architect Jeff Potter from the Voorhees office has been promoted to Associate.
Additional Info
Source : https://lanassociates.com/news/lan-associates-names-two-new-assistant-vice-presidents?utm_source=ActiveCampaign&utm_medium=email&utm_content=LAN+Names