Ocean Wind 1 offshore wind project takes huge step forward, could begin onshore construction activities in fall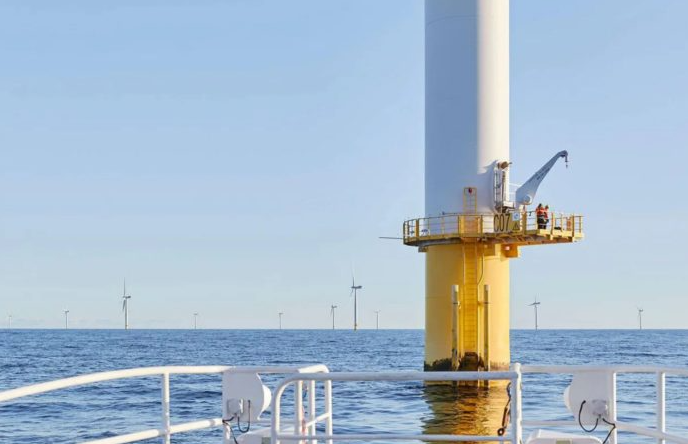 Ocean Wind 1 by Ørsted, New Jersey's first offshore wind farm, took a huge step Wednesday.
Ørsted announced receipt of its Record of Decision from the U.S. Department of the Interior's Bureau of Ocean Energy Management (known as BOEM), successfully reaching a major milestone in the federal environmental review process.
With the Record of Decision, Ocean Wind 1 will soon move from the development and permitting phase to the construction phase, with onshore activities beginning in the fall, including the project's onshore underground transmission line and onshore substations.
BOEM's issuance of the Record of Decision precedes the anticipated approval of Ocean Wind 1's Construction and Operations Plan in September.
The COP outlines the detailed construction, operation and maintenance activities of a wind farm, including the responsible decommissioning at end of life, the potential impacts, actions and design alternatives, and the proposed measures to avoid, minimize and mitigate potential impacts from the project.
And, while the COP and additional approvals still are needed, the Record of Decision was considered the last major hurdle on the project. With the approval, Ocean Wind 1 remains on track to begin onshore construction activities this fall, with offshore construction ramping up in 2024.
Officials from Ørsted and Gov. Phil Murphy — joined by environmental leaders, union heads and other elected officials — celebrated a decision that could very well kick-start a process that makes New Jersey a leader for offshore wind both as a source for clean energy and an economic-development driver.
The hope is that Ocean Wind 1 will power approximately 500,000 homes with reliable renewable energy when it begins commercial operations in 2025.
Murphy, who has made offshore wind a key element of his push for clean energy, was overjoyed.
"The announcement of Ocean Wind 1's Record of Decision today represents a pivotal inflection point not just for Ørsted, but for New Jersey's nation-leading offshore wind industry as a whole," he said.
"By preparing to begin onshore construction this fall, Ocean Wind 1 will help bring New Jersey one crucial step closer to achieving a 100% clean energy economy by 2035 and 11,000 (megawatts) of offshore wind power by 2040.
"Just as importantly, as we continue to cultivate burgeoning new industries while confronting the worsening climate crisis, our state's first offshore wind project will generate thousands of good-paying union jobs and considerable environmental benefits for generations to come."
David Hardy, group executive vice president and CEO, Americas, at Ørsted, shared his enthusiasm.
"Ocean Wind 1 is on the cusp of making history as construction on New Jersey's first offshore wind farm is set to begin in a few short months, delivering on the promise of good-paying jobs, local investment and clean energy," he said.
Shawn LaTourette, the commissioner of environmental protection, agreed.
"As New Jersey's first offshore wind farm comes closer to reality, the (Department of Environmental Protection) pledges to continue working closely with our federal partners at BOEM, the New Jersey Board of Public Utilities and Ørsted to ensure that the project is done safely and responsibly," he said.
All of this will have a huge economic impact, numerous officials said.
Offshore installation of the project's monopile foundations and GE Haliade-X wind turbines is expected to begin in 2024.
Monopiles for Ocean Wind 1 are being welded, sandblasted and painted at EEW American Offshore Structures' facility at the Port of Paulsboro, the first monopile fabrication facility in the U.S. Ørsted has made significant investments in the facility as part of its commitment to building a local, American offshore wind supply chain. New Jersey-based Public Service Enterprise Group will support Ocean Wind 1 with construction management, environmental permitting and compliance services for the onshore substations and transmission cable installation scope.
Ørsted, with partner Rowan College of South Jersey, is actively recruiting New Jersey residents to participate in a paid training program to become wind turbine technicians. In addition, hundreds of union workers in New Jersey will support the construction of Ocean Wind 1 and additional projects in the region.
Tim Sullivan, CEO of the New Jersey Economic Development Authority, said offshore wind presents a once-in-a-generation opportunity for New Jersey.
"Ocean Wind 1 will offer high-skilled, good-paying union jobs and major economic investment in South Jersey, all while providing cleaner air and a healthier environment," he said.
U.S. Rep. Donald Norcross (D-1st Dist.) agreed.
"Today's announcement is the beginning of the future of offshore wind in South Jersey," he said. "The manufacturing and construction of Ocean Wind 1 will create good-paying jobs and spur economic development in our communities while also moving us closer to our clean energy goals."
Labor leaders also were thrilled.
"The news of BOEM's issuance of its Record of Decision relating to Ocean Wind 1 is great news that is well-received by our leadership, but, more importantly, by the 150,000 members of New Jersey's building trades community," William Mullen, president of the New Jersey State Building and Construction Trades Council, said. "New Jersey's tradesmen and -women have trained long and hard in anticipation of this decision that allows Ocean Wind 1 to move ahead with its onshore construction plans that will provide well-paying jobs today and into the future."
Charles Wowkanech, president of the New Jersey State AFL-CIO, agreed.
"The announcement of BOEM's Record of Decision regarding Ocean Wind 1 is exciting news, and organized labor recognizes the immense value this project holds in regard to job creation and economic development," said "This decision paves the way for Ocean Wind 1 to proceed with its onshore construction plans, unlocking job opportunities that will support our highly skilled workforce and their families."
How complete was the celebration of this decision? Environmental groups offered their support, too.
"The decision by BOEM to issue a Record of Decision represents a key milestone for Ocean Wind 1 and New Jersey, whose leaders have been deliberate and steadfast in their mission to reach 11,000 megawatts of offshore wind power by 2040," Doug O'Malley, director, Environment New Jersey, said.
"The time to take action to protect our environment is now — climate change is the greatest existing threat to our state, and the development of offshore wind off the Jersey Shore is our best hope to power our state with clean renewable energy."
Allison McLeod, senior policy director, New Jersey League of Conservation Voters, agreed.
"Responsibly developed offshore wind will help us mitigate the worst impacts of the climate crisis, all while creating family-sustaining union jobs, giving us better domestic control of our energy production, and improving the overall health of our ecosystems," she said.
Joe Fiordaliso, president of the NJBPU, called the decision — and the project — a rare win-win-win.
"The decision from BOEM brings us one important step closer to reaching our goal of 11 (gigawatts) of offshore wind capacity by 2040, a vital part of our clean energy portfolio," he said. "Not only is offshore wind critical to our clean energy future, it is also a key economic driver and job creator as New Jersey seeks to become the supply chain hub for the East Coast in this growing sector."
About Ørsted
A global clean energy leader, Ørsted develops, constructs and operates offshore and land-based wind farms, solar farms, energy storage facilities and bioenergy plants. Ørsted is the first energy company in the world with a science-based net-zero emissions target as validated by the Science Based Targets initiative. In the U.S., the company has approximately 700 employees and a growing portfolio of clean energy assets and partnerships that includes offshore wind energy, land-based wind energy, solar, storage technologies and e-fuels.
Additional Info
Media Contact : roi-nj.com