Prestigious NSF Award Presented to Rutgers‒Camden Researcher to Study the Effects of Climate Change on Ecological Diversity by Examining Millennia-Old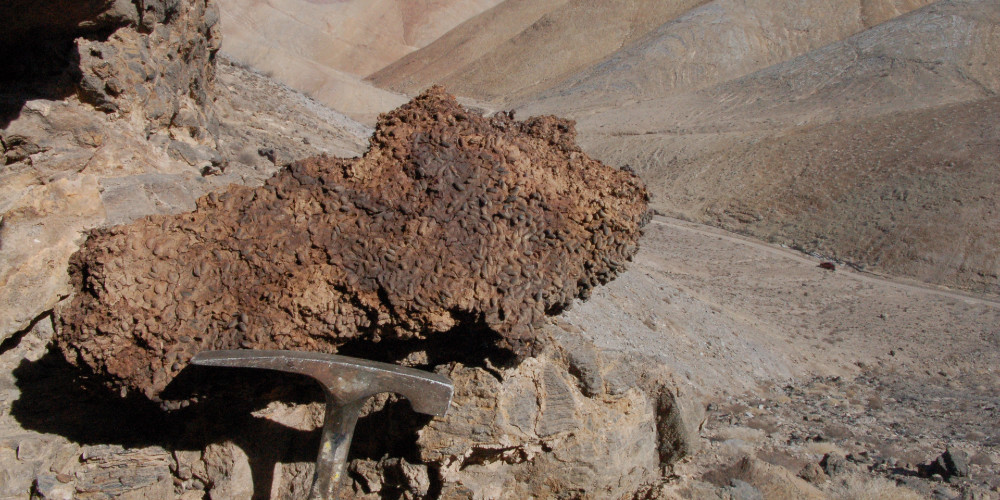 Midden (rats nest) in Atacama Desert in Chile
Rutgers University‒Camden scholar Angélica González is exploring ancient environments in the Atacama Desert in Chile to discover how soil arthropods – such as beetles and spiders – respond to climate change, particularly changes in precipitation.
Funded by the highly competitive National Science Foundation CAREER program, González will receive nearly $925,000 to support her research on paleoecology, a branch of ecology that examines the characteristics of ancient environments and their relationships to past climate.
"This project will help fill in the gaps in our understanding of the effects of environmental change on soil arthropods," says González, a Rutgers‒Camden assistant professor of biology. "The findings of this study have the potential to provide fundamental insights for predicting ecological responses to ongoing and future climate change."
The research is significant because arthropods comprise over two-thirds of known terrestrial species, and they play crucial roles in maintaining ecosystem functions related to soil quality, organic matter decomposition and nutrient cycling, but information on their responses to climate change are limited, the Rutgers‒Camden scholar explains. At the same time, dry lands represent more than 40% of the earth's land surface, with deserts and semi-deserts accounting for 17% of the planet's surface.
"Climate models predict reductions in precipitation patterns with expected negative consequences over the productivity, diversity, and the structure and functioning of these dry-land habitats," says González. "By studying ancient rodent middens (rat's nests), we can learn about past ecosystems. Ancient midden specimens can date up to 50,000 years old. Understanding the impact of climate change on soil arthropods using the unparalleled opportunities that ancient rodent middens provide is of crucial importance to help predict future ecosystems."
Rutgers‒Camden undergraduate and graduate students will participate in the research by conducting studies in Chile and in Gonzalez's Rutgers‒Camden lab, located in Camden's Joint Health Sciences Center.
A postdoctoral fellow and a group of Rutgers–Camden students will travel to the Atacama Desert to analyze arthropods found in both modern and ancient middens.
In the field-based Desert Ecology course in Chile, a small group of Rutgers‒Camden biology students will spend two weeks interacting with researchers from Pontificia Universidad Católica de Chile. Students will have hands-on experience in concepts and field methods for community and paleoecological studies; have an opportunity to design and execute independent research; organize, analyze, and synthesize data collected during the course; and experience local culture through interactions with local researchers and students.
"I expect our work and findings will ultimately help better predict the future composition and diversity of arthropod soil communities to changes in precipitation as a result of climate change," says González.
Additional Info
Media Contact : jeanne.leong@camden.rutgers.edu
Source : https://news.camden.rutgers.edu/2021/02/prestigious-nsf-award-presented-to-rutgerscamden-researcher-to-study-the-effects-of-climate-change-on-ecologic