Samaritan Offers a Complimentary, Virtual Coping With Holidays Support Group in November & December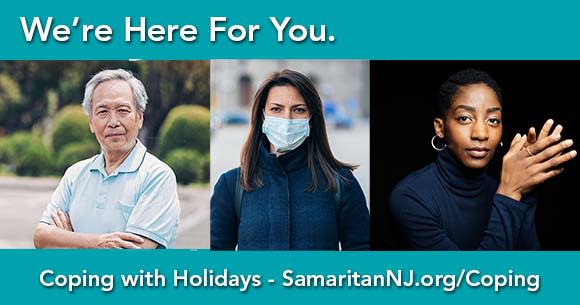 Mount Laurel, NJ – For most people, holidays are happy, festive times of year. But, for those facing holidays after the loss of a loved one, they can be lonely and emotionally very difficult to handle. Holidays or not, it is important to fi­nd a way to take care of yourself.
To help the South Jersey community cope with the loss of a loved one, The Samaritan Center for Grief Support is providing a virtual Coping With Holidays support group.
This online workshop is complimentary and facilitated by trained professionals.
Pre-registration for a virtual session is required by calling (856) 596-8550 or e-mailing at CFGcounseling@SamaritanNJ.org.
For additional information about coping, communication, compassion for self and others, as well as suggestions for self-care and holiday-related concerns, register for any one of the following 90-minute sessions outlined below:
NOVEMBER
Thursday, November 18 – 6-7:30 p.m.
Saturday, November 20 – 10-11:30 a.m.
Monday, November 22 – 6-7:30 p.m.
DECEMBER
Tuesday, December 7 – 2-3:30 p.m.
Saturday, December 11 – 10-11:30 a.m.
Wednesday, December 15 – 6-7:30 p.m.
Saturday, December 18 – 10-11:30 a.m.
Tuesday, December 21 – 6-7:30 p.m.
Wednesday, December 29 – 6-7:30 p.m.
Please note, sessions are subject to change. For additional information, please visit: samaritannj.org/resources/coping/.
---
About Samaritan:
Samaritan is a not-for-profit, independent organization locally founded in Moorestown, New Jersey in 1980. Samaritan is the regional leader for hospice care, palliative (comfort) medicine, at-home primary care, grief support and counseling, advanced illness care, education and advocacy. Samaritan serves people in Atlantic, Burlington, Camden, Gloucester and Mercer counties who are coping with the stresses of aging, serious illness, or grief in their homes, assisted-living or nursing home communities and through two inpatient hospice centers: The Samaritan Center at Mount Holly and The Samaritan Center at Voorhees. Samaritan's charitable mission is sustained and advanced by the generous support of the communities we serve and a thrift shop in Westmont. Samaritan is accredited by The Joint Commission; a member of the National Partnership for Hospice Innovation; and is a four-star hospice in the national We Honor Veterans program. For more information, visit www.SamaritanNJ.org.