Y.A.L.E. School Celebrates Grand Opening of Community Peace Labyrinth
Ribbon Cutting Held to Mark Completion of Student-Constructed Walking Path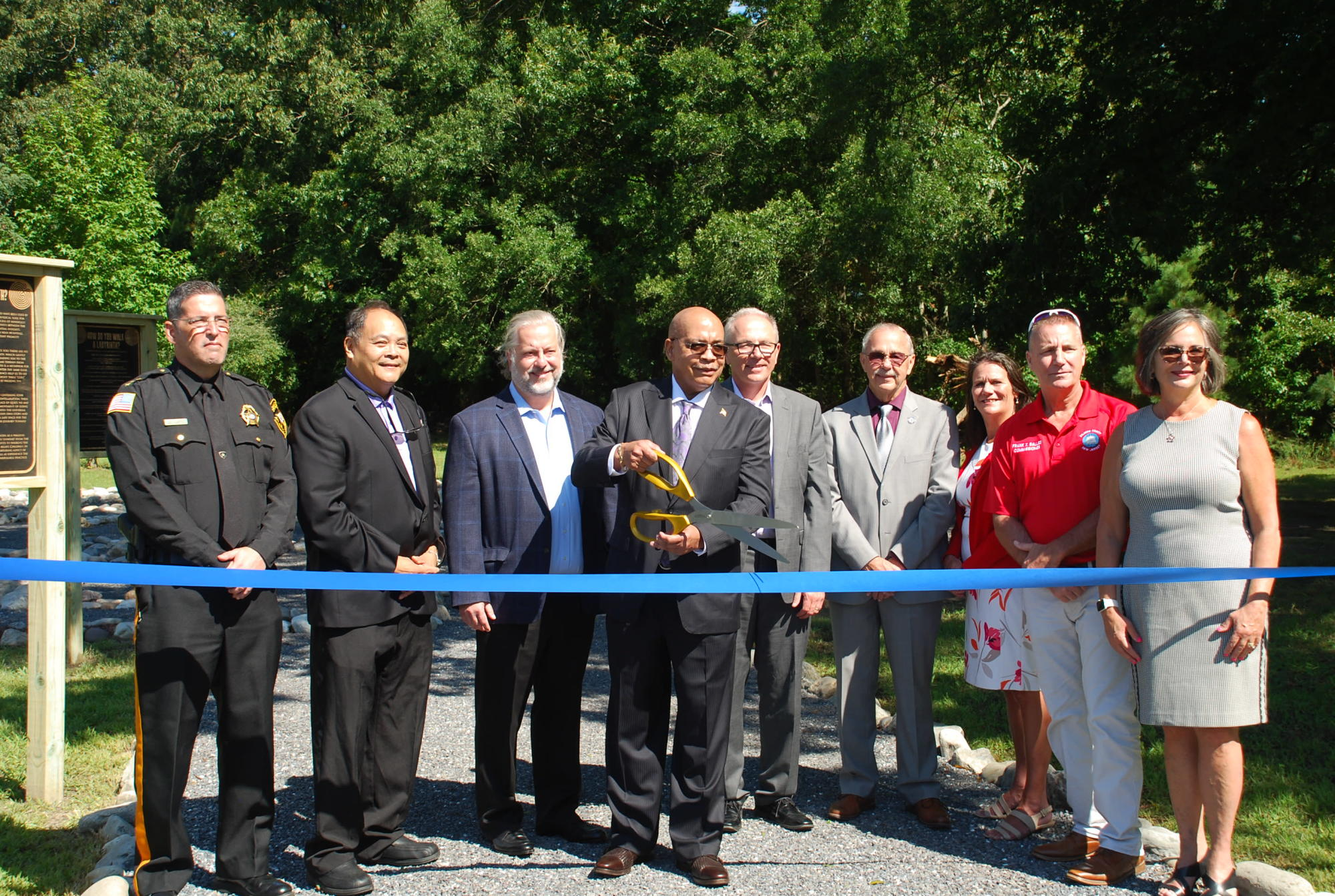 Elected officials from around the region joined Y.A.L.E. School leadership to open the Community Peace Labyrinth. Pictured, L-R: Atlantic County Sherriff Eric Scheffler; Northfield Mayor Erland Chau; Chris Sarandoulias and Al Doyle of Y.A.L.E. School; Asm. Vince Mazzeo (D- Northfield); Asm. John Armato (D- Northfield); Atlantic County Commissioners Maureen Kern, Frank Balles and Caren Fitzpatrick.
Northfield, N.J. – Y.A.L.E. School (Young Adolescents Learning Experience) recently hosted a ribbon cutting ceremony to celebrate the grand opening of its new Community Peace Labyrinth, a place both students and the public can use for reflection and the practice of mindfulness. The special needs students at Y.A.L.E. School, ages 5-21, took on the ambitious project this past spring to plan, design and build the intricate walking path.
"Throughout history, labyrinths were used by various cultures to promote inner reflection, spiritual contemplation and emotional restoration. These practices are hallmarks of our teaching methodology," said Al Doyle, Campus Director, Y.A.L.E. School Northfield. "This thoughtful, yet practical undertaking provided our students with experience in planning and construction, and working on the project quite literally helped them build a path to social and emotional well-being."
The creation of the Labyrinth was a school-wide project, with all grades participating at an age-appropriate level. Students learned about the history of labyrinths, the mathematical formulas used to create one and even how to prepare cost estimations for building projects. They also created a book documenting their project work. Now, students can experience the contemplative practice of walking the Labyrinth throughout the school year.
Y.A.L.E. School leadership were joined by elected officials from around the region to mark the completion of the Labyrinth.
"I'm thrilled to see this great community resource come to Northfield," said Northfield Mayor Erland Chau. "We hope residents will use and enjoy the Labyrinth, and that Y.A.L.E. School Northfield continues to work with its neighbors to create beautiful, meaningful projects like this."
"It's amazing to see how the students tackled this project – they gained real, hands-on experience in planning and building," said Assemblyman Vince Mazzeo (D-Northfield). "They learned what it takes for an idea to take shape from the ground up."
The Labyrinth is the latest community project started by Y.A.L.E. School Northfield; students are also working on planning, building, decorating and securing permits for a Tiny House. Once finished, the Tiny House will be donated to a local veteran in need with the help of a local veterans' group.
"I'd like to congratulate the students and staff of Y.A.L.E. School. They are doing tremendous work to provide helpful benefits to the community," said Assemblyman John Armato (D-Northfield). "I can't wait to see what they do next."
For more information about Y.A.L.E. School Northfield programs or to apply, contact Al Doyle at 609-677-9960 or adoyle@yaleschoolnj.com.
---
About Y.A.L.E. School
Y.A.L.E. School (Young Adolescents Learning Experience) is an NJ state-approved private special education school with nine campus locations throughout southern NJ and the greater Philadelphia region serving students with disabilities ages 3 through 21. Across four of those campus locations, Y.A.L.E. School offers a highly specialized program for students with special needs that provides low student-to-staff ratios, supervision by highly-trained and certified behavior specialist, a comprehensive curriculum, intensive transition support, integrated and consultative speech services, support for families and an extended school year program in the summer. Since 1976, students with disabilities have been placed at Y.A.L.E. School locations by their local school district and attend at no cost to parents. For more information, visit www.YALEschoolNJ.com.