Y.A.L.E. School Partners with Atlantic Cape Community College to Introduce Students with Disabilities to College Life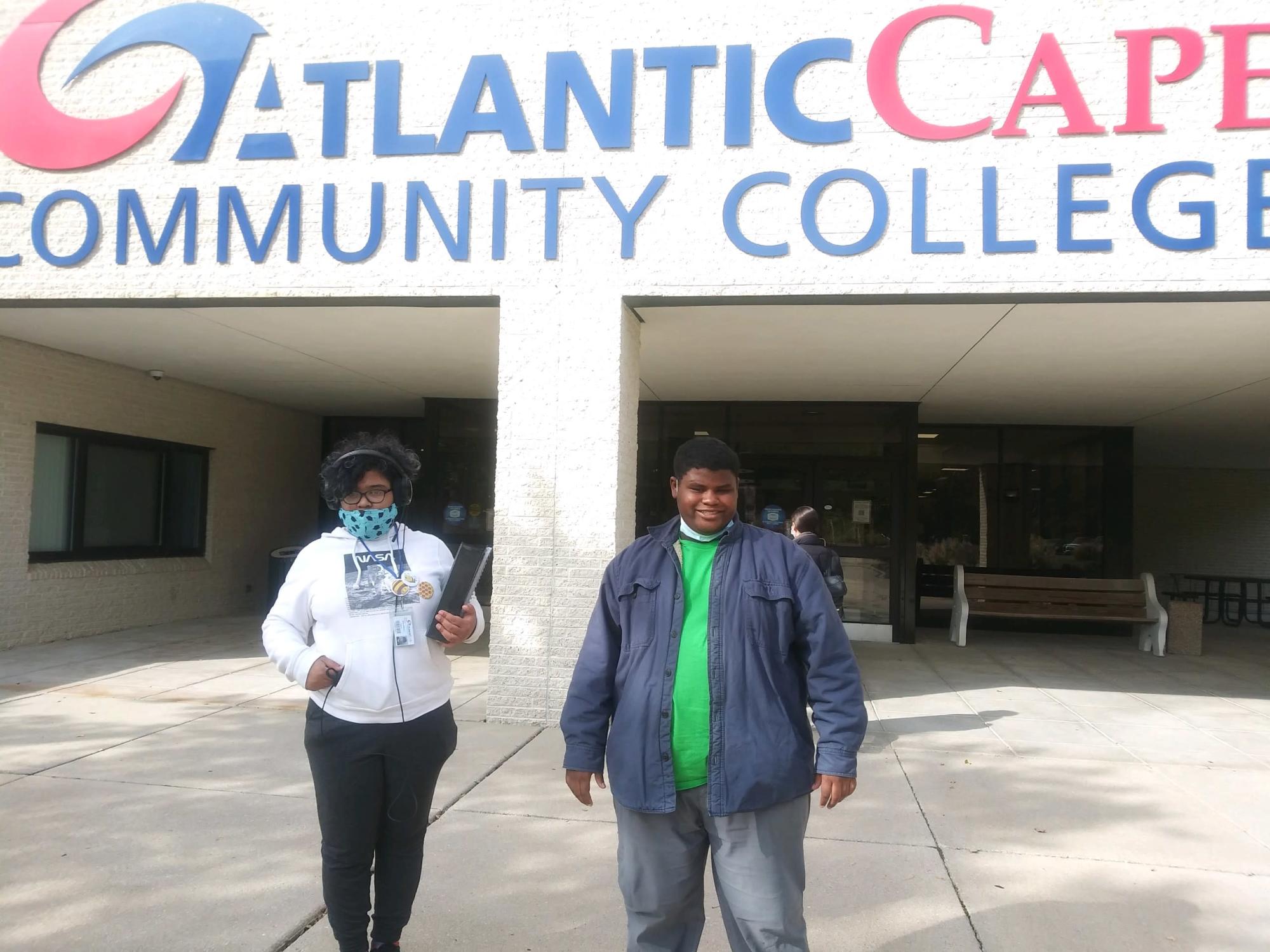 Mays Landing, N.J. – This semester, for the first time, Y.A.L.E. School students ages 18-21 are earning college credits and gaining valuable campus-life experience through a new partnership with Atlantic Cape Community College.
Throughout the Fall 2021 semester, students enrolled in Y.A.L.E. School's Standard 9 (S9) transition program in Northfield are gaining valuable college prep skills while earning four college credits in the "Student Success" & "Intro to Career Development" courses offered by Atlantic Cape at its Mays Landing campus. The Y.A.L.E. S9 program, which serves students with learning or behavioral disabilities or autism spectrum disorders, recently added this college component to its programs for continuing high school students, specifically tailored to meet the needs of those with college aspirations. Participating students have met all high school graduation requirements, but require additional transition preparation to meet their goal of one day attaining a college degree.
"We are thrilled to expand our S9 program with this new educational component at Atlantic Cape Community College," said Al Doyle, campus director of Y.A.L.E. School Northfield, which also offers the Linwood S9 program which prepares students for the workforce. "Now our S9 students who wish to go on to college will have that taste of higher education. They will learn what is expected of a college student, coupled with skills in self-advocacy, community living, mobility and transportation – all of which prepare them to be capable and responsible young adults."
On Tuesdays and Thursdays, in addition to their regular Y.A.L.E. School classes, an Atlantic Cape instructor teaches the S9 students the necessary skills to succeed at college level, including best practices for studying, time management and other college-learning staples. Y.A.L.E. School students received 3 free credits from Atlantic Cape.
"One of the most important things for us as we designed this course was ensuring the students get the full college experience," said Victor Moreno, manager of community outreach, Atlantic Cape Community College. "So they really are regular college students: They have student IDs, they have access to student services and resources like tutoring and assistive technology in the classroom for support, plus they have access to and are encouraged to participate in student activities and campus life."
The program at Atlantic Cape was modeled after Y.A.L.E. School's existing partnership with Camden County College, where students from Y.A.L.E.'s Standard 9 program in Cherry Hill participate in remedial or college level courses, on-campus or community internships, entrepreneurial business activities and service-learning projects.
"We look forward to further expanding and continuing to offer this opportunity to learn at Atlantic Cape Community College for future S9 students," added Doyle. "This is a unique opportunity for young adults with special needs in Atlantic County to prepare for a bright future in college. The sky is the limit."
For more information about Y.A.L.E. School's college partnership program with Atlantic Cape Community College or the Linwood Standard 9 transition program for students who are employment-bound, please call AL Doyle at (609) 677-9960 or email adoyle@yaleschoolnj.com.
Photo Caption: Crystal Alcantar and Julian Hodges are two of Y.A.L.E. School's Standard 9 students who are taking advantage of the program's new educational component at Atlantic Cape Community College. The Standard 9 students have maintained A-grades through the first half of their college course.
---
About Y.A.L.E. School
Y.A.L.E. School (Young Adolescents Learning Experience) is an NJ state-approved private special education school with nine campus locations throughout southern NJ and the greater Philadelphia region serving students with disabilities ages 3 through 21. Across four of those campus locations, Y.A.L.E. School offers a highly specialized program for students with special needs that provides low student-to-staff ratios, supervision by highly-trained and certified behavior specialist, a comprehensive curriculum, intensive transition support, integrated and consultative speech services, support for families and an extended school year program in the summer. Since 1976, students with disabilities have been placed at Y.A.L.E. School locations by their local school district and attend at no cost to parents. For more information, visit www.YALEschoolNJ.com.
About Atlantic Cape Community College
Atlantic Cape is a comprehensive two-year community college serving the residents of Atlantic and Cape May counties. The college offers over 40 career, transfer and workforce development programs to more than 8,000 students annually at three campuses in New Jersey: Atlantic City, Cape May Court House and Mays Landing.