NJEDA Small Business Grant Program Opens Tomorrow; Expanded Eligibility for ALL 501c Organizations
The New Jersey Economic Development Authority (NJEDA) has announced that it will pursue approval from its Board on Tuesday, June 9 to allow all types of 501(c) non-profit organizations to apply for funding under the second phase of the Small Business Emergency Assistance Grant Program. Only 501(c)(3), 501(c)(4), 501(c)(7) organizations were eligible in Phase 1.
The change will allow for all 501(c) non-profits to apply for funding, including veterans organizations and business and industry groups.
The expanded
Small Business Emergency Assistance Grant Program will be available at 9:00 a.m. on June 9, 2020
in both English and Spanish. The $45 million program will provide grants up to $10,000 to small businesses impacted by the coronavirus pandemic. A sample application that business owners can use to prepare is available in English, Spanish, and ten additional languages at
https://cv.business.nj.gov
.
All 501(c) organizations are welcome to apply; approval will be conditioned on Board approval of the expansion of eligibility (as well as other eligibility requirements).
Please reach out to Hilary Chebra, Manager. Government Affairs at
hchebra@chambersnj.com
if you have any questions.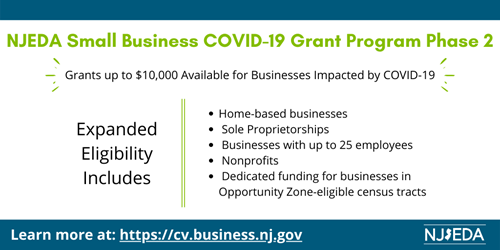 Additional Info
Related Links : https://conta.cc/2Yhj6Ws